Lifetime Achievement Award 2021: Rita Estwick
Neil Sutton
Features
canada post
cs honours
lifetime achievement award
rita estwick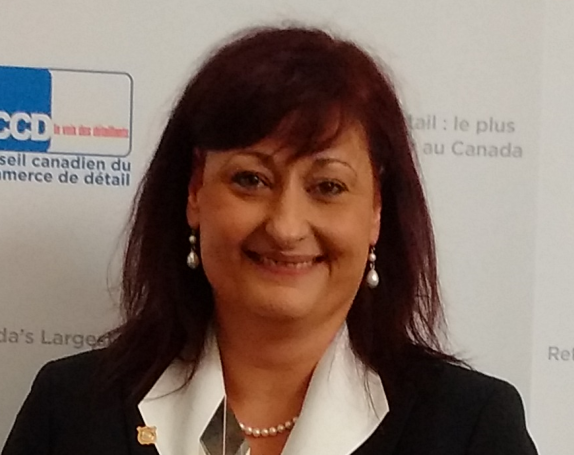 A Canada Post veteran of more than 25 years, Rita Estwick is both the "institutional memory" of her organization and the risk advisor helping to chart its course into tomorrow and beyond.
Estwick joined Canada Post in 1996 on a six-month contract to fill a maternity leave and was originally tasked with working in the organization's security call centre. "The idea behind this was to start to collect and collate information with the idea of identifying trends and actionable insights," she says.
When the employee on maternity leave returned to Canada Post, there was more than enough work to manage and Estwick was hired on full time.
Estwick remembers that when she first started, Canada Post was delivering goods that were bought over the phone by consumers responding to TV infomercials. But by the early 2000s, the dot-com boom was underway and e-commerce was beginning to reshape the retail landscape.
Estwick's position at Canada Post began to change too. Her security role grew to include data analytics and customer risk management. She began working more closely with retailers' security teams to help address their new needs. The position also led to a collaboration with the United States Postal Service, which was engaged in a similar outreach program.
A bridge-builder throughout her career, Estwick has worked with a number of different organizations, including businesses and law enforcement, as well as security associations like ASIS International, the Association of Certified Fraud Examiners and the International Association of Financial Crimes Examiners. She has enjoyed an especially fruitful relationship with the Retail Council of Canada (RCC) as an active member of its loss prevention committee, including a one-year secondment to spearhead an organized retail crime initiative.
The project was designed to provide education and best practices, "and raise the level of awareness for large, mid-size and small retailers around some of the risks and what we, the RCC, could do to help," says Estwick. (For her service to the retail community, Estwick was awarded the RCC's loss prevention lifetime achievement award in 2015.)
When Estwick returned to Canada Post full time, she was promoted to director of security. Since then, she has held a number of titles, including director of security strategy and director of enterprise security development.
In 2015, she led a five-year security plan called Postal Security 2020, which took into account known and potential threat vectors in order to prepare the organization for the future. "It's all about resilience," Estwick told Canadian Security in a 2015 interview. "It's not a question of if these threats will hit us, it's a question of when. It's about our ability to deal with them and resume. That's what resilience is about."
Today, Estwick refers to 2020 as "the most unusual year in my career." Typically, Canada Post expects to see its capacity scale up for holiday deliveries beginning in September. When the pandemic hit, that surge started in the spring due to an unprecedented spike in e-commerce. "From a security perspective, we were ready," says Estwick. "We've always been ready."
Estwick is currently director of the Security Fusion Centre at Canada Post. Her mandate is to continue to develop strategies to respond to emerging threats and strengthen Canada Post's culture of trust.
An advocate of constant learning, Estwick volunteers with Humber College, serving on the advisory committee for the Protection, Security and Investigations program. She also recently graduated from the Schulich School of Business at Toronto's York University with a certificate in professional services.
She says the experience opened her eyes to the role that the security department can play in the C-suite. "And I think that's where security needs to sit, in any organization, whether you're a small business owner…right up to a very large organization, because we bring an insight, we bring an intelligence, we bring a perspective," she says.
Estwick says she's sometimes asked why she has remained with Canada Post throughout her career. "I'm not done yet," she replies. "I see myself growing."
---
Print this page