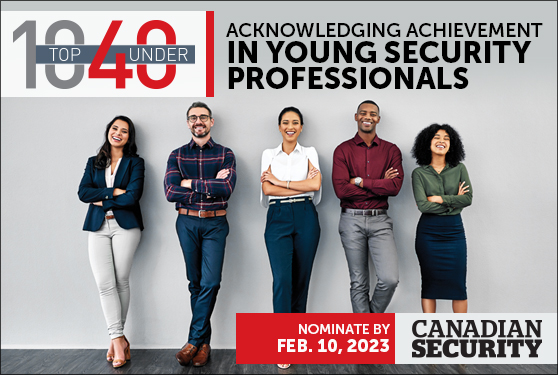 Canadian Security's fifth annual Top 10 Under 40 recognizes young security professionals working in Canada. Nominees must:
• Reside in Canada
• Work full time in a professional security role
• Demonstrate diligence through hard work, mentorship, achievements, education, etc.
• Be under the age of 40 at the time of submission deadline
Security professionals at all levels of seniority are eligible for consideration. Winners will be determined by Canadian Security staff. Winners should also be available to be interviewed on short notice and will be contacted by staff directly. Nominees/nominators who are not selected will not be contacted. Profiles of winners and photos will be published in the Spring 2023 issue of Canadian Security magazine.
Deadline for entries is 
February 10, 2023
. If you have any questions, please contact 
Canadian Security
 editor Neil Sutton at
nsutton@annexbusinessmedia.com
. 
If space provided in submission form is not sufficient, please email further information directly to Neil Sutton.
Submit your nomination complete the form below
Thank you for your interest. Canadian Security Top 10 Under 40 2023 is now closed for nominations.