From the archives: Canine Power
By Canadian Security
News
Industry News
In celebration of Canadian Security's 40th anniversary this year, we will be highlighting a cover story from the archives each week.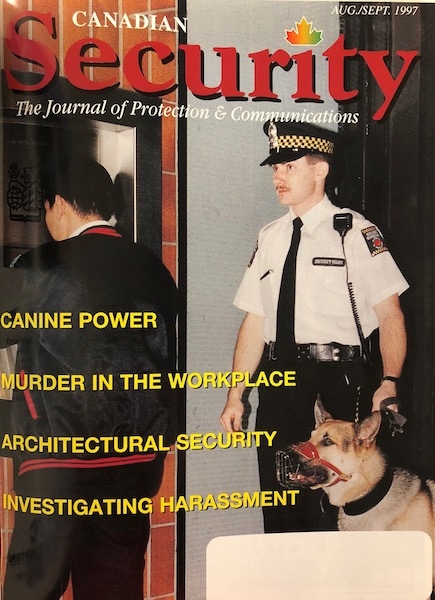 This week, we take a look back at the August/September 1997 cover story,
"Canine Power," which highlighted the success of Toronto-based Intelligarde's security operations. The company combined human psychology, canine units and technology to provide a range of proactive security services, including community patrols, rapid alarm response, investigations and more.
Dubbed "Canada's first private police station," Intelligarde's headquarters used an interactive voice response telephone and a 24/7 operations centre. The company also had 20 patrol cars and two kennels housing 45 security and narcotics detection dogs. The dogs were an effective threat against theft and harassment, Ross McLeod, then-president of Intelligarde, said. However, the also maintained that "effective security work is about 75 per cent psychological."
In 1997, the industry was professionalizing and distinguishing itself from the police. In fact, the Intelligarde officer's uniform helped ensure a distinction between security and police officers, and most of the company's security guards were graduates of college law and security courses.
---
Print this page