Gold
---
The Right Security Partner Makes All the Difference
At G4S, our goal is to be your Trusted Advisor when it comes to securing your world – your people, your property and your assets. We believe that the most effective way to secure that which is most important to you is through an Integrated Security approach that includes a combination of security personnel, technology and corporate risk services – all working seamlessly in harmony with each other.
Unleash the power of ONE G4S and move forward with confidence knowing that you are working with the right team, every time.
Our commitment to you is that you'll benefit from our:
Experience… we've been there since the start
Consistent delivery and accountability
Global perspective on the industry and trends
Knowledge in government compliance
Best-in-class recruiting and training
Grow your business with G4S as your Security partner.  Let's talk.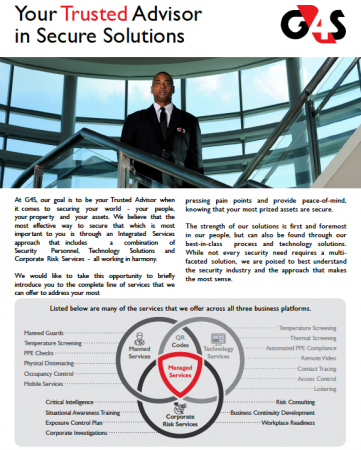 For more information, visit our website: https://www.g4s.com/en-ca