INKAS unveils Toronto facility
By Canadian Security
News
Industry News
INKAS Group of Companies recently held a ribbon cutting ceremony for the official opening of its new facility in Toronto.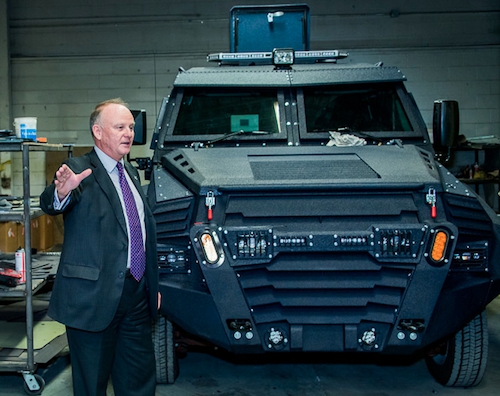 The new facility serves as an office space for more than 200 Toronto-based employees, a manufacturing plant and an armoured vehicle showroom.
"Our new facility is all about innovation. We are locating our offices under the same roof so that we can easily get the sales force, the production force and the engineers together to talk and make our products even more innovative and more competitive," said Ret. Maj.-Gen. David Fraser, COO, INKAS Armored Vehicle Manufacturing, in a statement. "This is an innovative facility that we are very proud of."
"Even though various INKAS divisions and companies work on different things, we are all one big family and our greatest asset is our people. Without them, we are nothing and as we grow, we are looking to increase our family," added David Khazanski, CEO, INKAS Group of Companies.
Attendees at the opening also had an opportunity to participate in a production facility tour.
In the past two decades, INKAS has grown from a local cash-in-transit company, adding divisions including armoured vehicle and safe manufacturing, metal fabrication, and software development.
---
Print this page