Focus on Health Care Security: The Recap
By CS Staff
Features
Health Care
AppArmor
convergint technologies
editors pick
focus on health care security
GardaWorld
health care
Johnson Controls
Stanley Healthcare
team software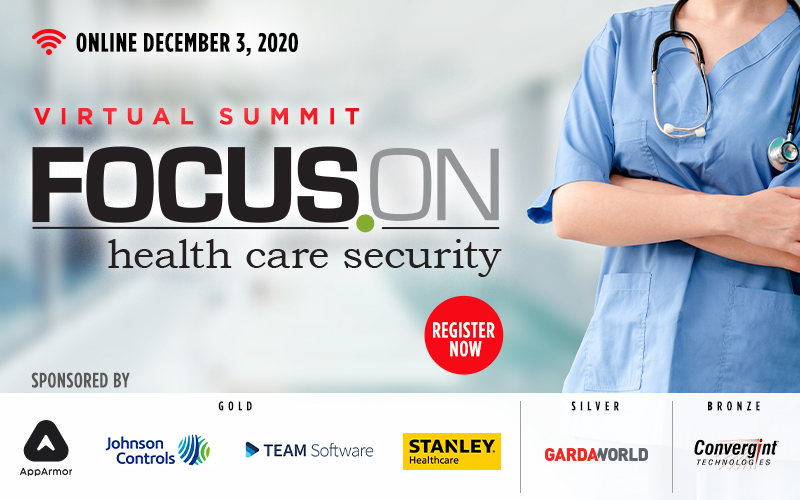 On Dec. 3, Canadian Security hosted its annual Focus on Health Care Security event, which showcased thought leaders and best practices from across Canada's health-care security community. Due to the ongoing COVID-19 pandemic, the event was held virtually.
Hosted by Canadian Security editor Neil Sutton, the event was sponsored by AppArmor, Johnson Controls, STANLEY Healthcare, Team Software, GardaWorld and Convergint Technologies.
The event kicked off with a welcome message from Roy Williams, President, International Association for Healthcare Security & Safety (IAHSS), one of Canadian Security's industry partners.
Williams used his welcome speech to provide an update on association activities during the pandemic and into 2021, along with a message of hope moving forward.
"We are doing well and we are moving forward even though it's been a little slower this year," Williams said in his address. "We are focusing on a strategic plan that is going to help us in our guidance and make sure that we are being resourceful and purposeful."
To discuss mental health management for health care security professionals, Dr. Bill Howatt, Ph.D., Ed.D., president and founder, Howatt HR Consulting, delivered a keynote to discuss his mental fitness plan.
Defining mental fitness as the intentional actions that can positively impact employees' mental health and reduce their risk of mental harm, Howatt explained that the plan looks at mental health rather than mental illness.
"Mental health is really about being comfortable in your own skin and having the confidence that you can actually deal with the challenges in front of you," Howatt said.
After a short break, IAHSS treasurer Sarah
Miller presented the IAHSS Ontario Chapter Security and Safety Leadership Award to Brine Hamilton, Member-at-large, Board of Directors, IAHSS.
Hamilton recently joined Omnigo, a public safety and incident management software solutions provider, as a systems engineer in the company's health-care vertical. He was also recently voted President-Elect for IAHSS and will begin his term next year.
"I'm thankful for the recognition and know that 2020 has been a very difficult, very challenging year for all of our security leaders," Hamilton said during his acceptance speech. "There are many very deserving candidates, so to be selected is very humbling."
The award presentation was followed by a roundtable discussion with renowned health care security professionals, who candidly spoke about their lessons learned during COVID-19.
The panelists included:
Scott MacMillan, Manager, Community Operations & Logistics (Pandemic Support) Manager, Quality Improvement & Analytics, Lower Mainland Integrated Protection Services, B.C.
Ryan Cammidge, Director, Protective Services, Edmonton Zone, Alberta Health Services
Martin Green, Manager, Security, Telecommunications & Emergency Preparedness, Baycrest, Toronto
Jason James, Director Facilities Management & Support, Nova Scotia Health Authority
Paul Sarnese, Assistant Vice President, Safety, Security and Emergency Management, Virtua Health, New Jersey
Allison Collins, Manager – Regional Protection Services, Eastern Health
The panelists discussed a plethora of topics related to COVID, including what has worked, what hasn't, how the industry applied the lessons from SARS and H1N1, and what is to be expected for 2021 and beyond.
"I didn't want to go through it again," Green said of his past experiences working with SARS and H1N1 prior to COVID-19. "But the experience that you've had has helped build the foundation for this pandemic. Everybody here in the senior leadership at Baycrest went through SARS and H1NI and you just needed to have that level of experience and background to get through this."
Among the challenges faced by the panelists were issues such as PPE shortages, adjusting their pandemic plan as the COVID situation developed and dealing with mass hysteria from the public.
"I think half of our battle was telling people this is not a hoax — this is real, and it's coming," Sarnese related. "Initially the first feelings that I had — I lived through SARS and H1N1 and the swine flu — so from that perspective, I think there is some optimism that it might be as as manageable as those crises work."
When COVID-19 was first declared a pandemic, hospitals had to reevaluate their pandemic plans and make amendments as the situation developed, almost daily.
"Our first thought was that we have to get our pandemic plans out and see if we have any gaps in that plan and how do we move forward," recalled Collins. "After we did that, we really wanted to look at who do we need in place to help manage this event because we want to make sure we get our subject matter experts — it's a different event and we want to make sure we have the appropriate oversight to manage it."
"We are a huge organization, with about 110,000 employees, and all of the audit committees and all of the sub committees and task force and provincial leadership teams were all in existence as a result of some of these previous pandemics we've had," Cammidge said. "We had a lot of really good synergies and relationships and so … we're able to sort of hit the ground running."
Other topics discussed amongst the panelists were the impending vaccines and how the hospitals were going to be modifying or increasing their security protocols when the COVID-19 vaccine arrives.
Sharing that Virtua Health is expecting their vaccine delivery this month from the New Jersey Department of Health directly to their pharmacist, Sarnese says that they will  have a state police escort. "[The vaccines] will go right to our sub-zero freezer and there's already access control on camera," Sarnese says.
"We've been involved in conversations for about a month now — we're just having initial meetings right now and we're expecting that sometime in the new year," James shared. "But they are bringing me into the conversation and making sure that we're moving in the right direction."
---
Print this page