Virtual Summits
Women in Security 2022
May 31, 2022 at 1:00pm ET
The inaugural Advance: Women in Security virtual event, presented by SP&T News, Canadian Security and Sécurité Québec, is designed to promote gender diversity in one of Canada's most critical and growing economic sectors. Companies and businesses from all corners of the security industry — manufacturers, guard companies, vendors, distributors, dealers, system integrators and end users — are increasingly hiring more women for all roles, from front-line positions to senior management.
Register today to be a part of this important event that will spotlight the accomplishments of successful women in Canada's security industry, encourage more women to join the sector and raise awareness of organizations that are taking a leading role.
Register Now
Schedule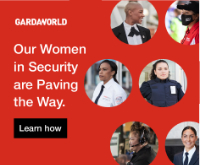 At GardaWorld, women work hard toward establishing a equal world "together, we can forge womens equality''. At GardaWorld we recognize and celebrate our hard-working women in security all year round.

1:00PM – 1:05PM
Welcome message and introductions
Speaker:
Neil Sutton, editor, Canadian Security & SP&T News
Moderator:
Madalene Arias, associate editor, Canadian Security & SP&T News
Panelists:
Elizabeth Parks, president and CMO, Parks Associates
Floria Chiu, enterprise account executive, Allied Universal Canada
Jenn Hilber, business architect, Convergint; chair of Convergint Women Connect affinity group
Elaine Palome, HR director, Axis Communications
Erin Mann, city manager, Toronto, Latch
Security has come a long way in the last decade but clearly there is still more work to be done to make the industry a more supportive and welcoming environment for women. This session will examine some of the initiatives that are helping to drive the industry in the right direction and offer solutions to accelerate that change.
1:50PM – 2:10PM
Coffee break
Moderator:
Neil Sutton, editor, Canadian Security & SP&T News
Panelists:
Helen Perry-Raycraft, assistant regional vice-president, Region 6C (Sask., Alta. and B.C.) ASIS Canada; Women in Security liaison, ASIS Sask. Chapter; Member-at-large, CANASA National Board;
Joanne Robertson, board member, CANASA B.C. Council; member, CANASA National Working Committee; director of sales, West, Inaxsys Security Systems
Ceres Silva, chair, WIS, ASIS Toronto; council member, CANASA Central; member, SIA Women in Security Forum; founding member, Immigrant Women in Business of Canada; Canadian sales director, Eagle Eye Networks
Katie Greatti,associate director, learning and development, Security Industry Association
Associations can be a vital and enduring source of education and collaboration as security professionals look to advance their careers and build their networks. Leaders in organizations across North America discuss examples of Women in Security initiatives that are making a difference.

2:55PM – 3:00PM
Closing remarks
Speaker:
Neil Sutton, editor, Canadian Security & SP&T News
Frequently Asked Questions About Women in Security 2022
When & Where?
Women in Security 2022 will take place virtually via Zoom Webinar on May 31, 2022 at 1:00pm ET.

There will be a 15 minute break between live sessions.
Why Virtual?
The safety and wellbeing of our employees, customers, and community is our number one priority. By making this event an online experience, it eliminates the need for attendees and sponsors to travel in-person, while enabling them to still benefit from the event content.
What's Included?
Your registration provides you with access to watch the virtual keynote, all live sessions, and on-demand recorded content and product demonstrations.
How do I access?
We will email you an access link to the virtual event the morning of May 31, 2022.
If you don't see an access link in your email inbox, please check your junk folder. If you are still unable to locate the email, contact
Tara Jacobs
.