Gold

---
A new reality awaits. GardaWorld can ensure you're ready.
As more office towers, commercial properties and retail locations begin to open amid the pandemic, GardaWorld remains on the leading edge of innovative security solutions to meet any unprecedented challenges. Our recent road to recovery and sustainability white paper highlights four steps to keep your workforce and workplace safe from COVID-19 as you resume operations and transition to a new normal.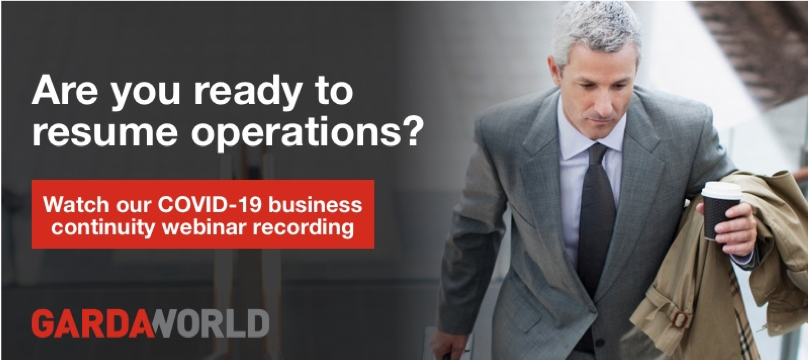 GardaWorld offers a variety of business continuity services designed to help you manage your staff's return to work. Our security consultants assist in creating adapted business continuity plans and can perform scheduled audits to ensure your entity complies with COVID-19 regulations. We provide disinfecting and sanitization solutions for your facilities to help prevent the spread of the virus. GardaWorld Campus' tailored training helps educate your tenants or employees on matters such as infection prevention, change management, stress management, and other relevant subjects. Lean on our security guards to help reinforce your sanitary and safety protocols such as social distancing in your reception areas. New fever-screening technologies coupled with security guard presence controls access and ensures all those who frequent your location are kept safe. TalentWorld, a GardaWorld division, offers flexible, cost-effective and highly customizable solutions such as return-to-work planning, CV management (prequalification & testing of applicants), remote onboarding and training to support you as you prepare your organization for the new normal.