Unpacking the three boxes
By Derek Knights
Features
Book Review
Opinion
annex
book review
derek knights
harvard business review
the three box solution
vijay govindaraian
Three is a very significant number.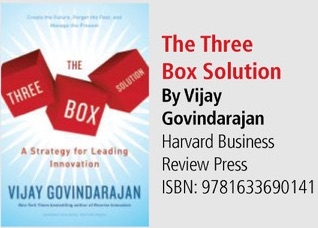 Third time lucky; triple crown; the triangle (very stable); three's company; three's a crowd; or three on a match — a battlefield superstition that the first cigarette lit on a match alerted an enemy sniper, the second was for aiming, and the third for the shot. Three has good and bad connotations.
"The Three Box Solution," a new business book from the Harvard Business Review Press by Vijay Govindarajan (VG, the dust jacket calls him) touches on both connotations but not necessarily intentionally. VG's boxes are the present, managing your business at peak profitability (Box 1); the past, dumping practices and attitudes that inhibit innovation (Box 2); and the future, breakthrough ideas for new products or businesses (Box 3).
He takes us through his definitions of the three boxes and how they interact, writing in an easy-to-read-and-understand style. He defines each box through a series of case studies featuring both well-known and lesser-known companies. And while he discusses each box through the book, he wants the reader to focus on Box 3. Times are changing and your business must change with it, so you must embrace Box 3. Box 2 exists mainly as something to do to get to Box 3 and Box 1 is how you pay for it all.
The book is about determining and controlling change. In "Future Shock" (1970), author Alvin Toffler called change "the process by which the future invades our lives, and it is important to look at it […] from the point of the living, breathing individuals who experience it." Toffler spoke of change coming at us and VG speaks of us going and getting it.
A good plan. VG does a good job of explaining how and why companies need to read the landscape, and he describes the three-box program in a compelling manner. Where this breaks down is with the case studies. The experience became less compelling than the theory.
Keurig Coffee was one case study, but it seemed less about change as creating a new industry. Another was a heavy-equipment rental company. Both were interesting, if not inspiring.
My favourite was the story of Hasbro, the toy and games company. Board games and traditional toys appeared to be losing market share to competitors' higher-tech products. Hasbro had an epiphany. It owned the rights to both toys and high-tech in its "Transformers" toy line. It showed longevity and adaptability, having been a cartoon series as well.
Pushed by market forces and inspired, I expect, by Disney's "Pirates of the Caribbean" success, it branched into the Transformers movies — a $4.3-billion revenue generator in its own right, and a series of $150-million commercials for its merchandise.
It's an interesting story and a good sales pitch for the "Three Box Solution." The others don't hold up as well, such as the one about a U.S.-based mega-church. Perhaps something like an analysis of Apple and Steve Jobs, who appears to have been so innovative that the three boxes would have probably been running to catch up to him, would have been better.
Don't get me wrong. I'm not maligning the book; I think it's good and it's an important read — particularly for the security industry, which really needs to start demonstrating it is agile enough to meet the future.
But business books are like diet books; there are so many and all have good suggestions and airy-fairy bits. You won't go wrong with this one, but it's not magic — you will need to work hard at it.
Derek Knights, CPP, CISSP, CFE CIPP/C, PCI, is the senior manager, strategic initiatives, global security and investigations, at the TD Bank Group.
---
Print this page