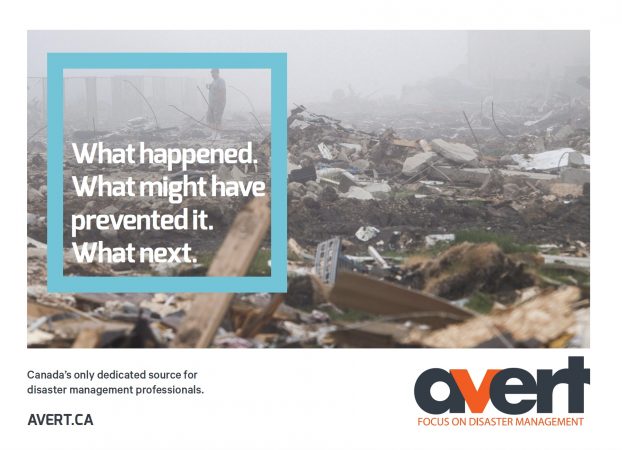 Canada's largest trade media company, Annex Business Media, has launched a new media brand for the growing audience of professionals involved in disasters.
Introducing Avert – Focus on Disaster Management.
The world is facing a rising number of disasters directly linked to the changing climate. Zeroing in on the work of emergency managers across the country, Avert will cover the news, products, trends and issues that impact you, and provide a platform for experts to discuss best practices and lessons learned in disaster mitigation, preparation, response and recovery.
Avert's editors will cut through the jargon to deliver relevant and timely stories that matter to this growing community of people, companies, organizations and government bodies.
Avert's publishing arsenal includes daily web content, enewsletters, product eblasts, videos, webinars, digital magazines, themed ebooks, podcasts, surveys, and so much more.
The team has also assembled an editorial advisory board of professionals in the world of disaster and emergency management who are sharing their experiences and networks to help steer Avert's content to best serve its audience.
Annex Business Media has a long history of covering industries that are involved in aspects of disaster management, and Avert will lean on its sister publications to keep information flowing, including Canadian Security, Fire Fighting in Canada, and Blue Line.
Follow along, through whatever means suits you – enewsletter subscription, Twitter, Facebook, LinkedIn, or bookmark Avert – to keep up to date on the growing and changing world of disasters.
As Avert's community grows, please reach out to the team and let them know what matters to you.
---
Print this page