Most read stories of 2021
By Canadian Security staff
Features
2021 was remarkable as the first full year of the pandemic: vaccines rolled out to the masses,  businesses adjusted to the on-again, off-again pattern of lockdowns and restrictions, and the security industry continued to prove its mettle.
Canadian Security was there to voice the opinions of security professionals and share their stories. Outside of the pandemic, they offered advice and context for many other issues affecting the industry, including a rash of cybersecurity incidents and what a "skills shortage" actually might mean for the employment sector. Plus: our regular (and popular) profiles of award winners, including Top 10 Under 40, Security Director of the Year, Emerging Leader, Lifetime Achievement and Community Leader Awards.
These are some of our most read articles (and most-viewed videos) from 2021, presented in chronological order.
January 19, 2021
Ontario launching online security guard and private investigator testing
The Ontario government announced this week it is offering an online testing option for those who wish to obtain a security guard or private investigator licence.
In a statement, the government noted that the option will remove the need for applicants to travel to a testing facility during the current COVID-19 pandemic outbreak and into the future.
February 1, 2021
(ISC)² Toronto Chapter meeting: why do soft skills matter?
The session focused on the importance of having the necessary soft skills when considering a career in cybersecurity
February 8, 2021
Peel District School Board struggles with fallout from malware attack
The Peel District School Board is still unable to say when several of its key online resources will be back on track after they were hit by a malware attack that continues to paralyze a string of databases.
February 18, 2021
Reaching the masses: how mass notification tools have been deployed during COVID-19
Mass notification technology has played an increasing role for workplaces fractured by the pandemic
February 22, 2021
How to prevent insider risk within a company
Insider risks are sometimes perpetrated innocently by employees, but there are remedies that can limit an organization's exposure
March 26, 2021
VIDEO: On the Clock: Matt Cameron, corporate security advisor, City of Airdrie, Alta.
Matt Cameron, corporate security advisor for the City of Airdrie, Alta., describes the "leap of faith" he took early on in his career and why networking is important for anyone who is considering a career in corporate security.
April 1, 2021
Fight back against porch pirates
The practice of porch piracy — thieves swiping consumer packages from doorsteps before their rightful owners can bring them safely into their homes — is on the rise. Here are some steps you can take to mitigate this type of theft, and what you can do if you become a victim.
April 6, 2021
Canadian Security Top 10 Under 40 2021 winners announced
Canadian Security is pleased to announce the recipients of the third annual Top 10 Under 40. There were many excellent nominations again this year, so narrowing this list down to just 10 people is always difficult. We would like to thank everybody who took the time to nominate their co-workers, colleagues and fellow security professionals.
May 4, 2021
CDW Canada study reveals 99 per cent of Canadian businesses reported cyberattack
New study from CDW Canada examines the evolving threat landscape and reveals major sources of cybersecurity incidents in Canada.
May 5, 2021
VIDEO: On the Clock: Kevin Golas, Global head of cybersecurity services, OpenText
Kevin Golas, global head of cybersecurity services, OpenText, talks about what businesses can learn in the wake of the SolarWinds and Exchange incidents and how they can apply those lessons to better prepare for future threats.
May 18, 2021
Remembering Bob Marentette (1951 – 2021)
The security industry has lost a kind and generous spirit in Robert (Bob) Marentette, who passed away earlier this month at age 70 from cancer.
Marentette retired barely a year ago from his role as director of operations at the Art Gallery of Hamilton, Ont., an organization he served for 14 years. Over his more than 50-year security career, he cultivated a well-regarded professional acumen, which he combined successfully with a deep curiosity in cultural history and artifacts. He was a noted speaker on several subjects, including art theft and the protection of art.
May 27, 2021
OPINION: Bridging the skills gap
Too many employers are looking for 'unicorns' to fill cybersecurity roles
By Kevin Magee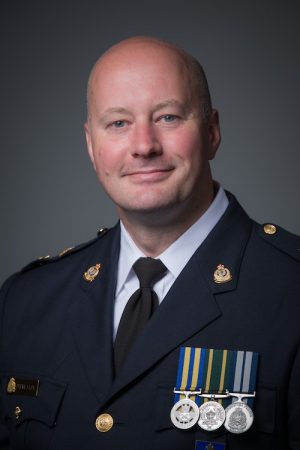 June 15, 2021
Paladin appoints new director to Vancouver office
Paladin Security has appointed recently retired Vancouver Police Department Superintendent Steve Eely as director effective July 1.
Eely joins Paladin after a 32-year career in policing ranging from street patrols, commander of multiple Vancouver districts, a nationally accredited Critical Incident Commander, and finally as Superintendent, leading over 400 sworn and civilian members of the VPD's operations division.
July 30, 2021
On the Clock: Tim McCreight, Managing Director – Enterprise Security, CP Rail
Tim McCreight, Managing Director – Enterprise Security, CP Rail and regular Canadian Security columnist, shares what it was like starting a new job in the middle of a pandemic and his words of wisdom for anyone looking to advance in security.
September 20, 2021
Ontario releases new guidelines for how vaccine passports will work
With just over a week to go before Ontario residents are mandated to show proof-of-vaccination documents at bars, restaurants, gyms, cinemas, nightclubs, and other "high-risk" indoor settings, the province has released guidelines for business owners to follow.
October 4, 2021
Q&A: Steve Jones, CEO, Allied Universal
Allied Universal celebrated a major milestone in the company's growth when its acquisition of G4S closed in April of this year.
Canadian Security recently spoke with Allied Universal's CEO Steve Jones for an update on the integration process post-acquisition and to check in on other developments, including its systems and technology businesses, and how the company stepped up to deliver service during a challenging few years marked by the global pandemic.
November 1, 2021
Security Director of the Year 2021: Lina Tsakiris
For her contributions to the study of insider risk and in recognition of an impressive security career built over decades, Tsakiris was named Security Director of the Year 2021 by Canadian Security's editorial advisory board.
November 4, 2021
Emerging Leader Award 2021: Suzanna Alsayed
For those who follow Suzanna Alsayed on social media, it quickly becomes clear where her interests lie: security, branding and linguistics. She has brought all of these into her professional orbit and created two companies that reflect not only her expertise but her vision for the future.
November 4, 2021
Community Leader Award 2021: Ronald Wells
If you ask Ron Wells about security, he'll tell you he was born to do it.
Wells is a member of the Wiikwemikoong First Nation located on Manitoulin Island, Ont. He spent a few years of his childhood there, until his parents moved the family to the Toronto area. Going back several generations, many of his family members have served in uniform or in the armed forces.
November 4, 2021
Lifetime Achievement Award 2021: Rita Estwick
A Canada Post veteran of more than 25 years, Rita Estwick is both the "institutional memory" of her organization and the risk advisor helping to chart its course into tomorrow and beyond.
---
Print this page