Hytera Canada Explains: How Does Push-to-Talk Over Cellular (PoC) Work?
By Hytera Canada
News
Sponsored by
Hytera Canada
PoC radios support the advanced features of Digital Mobile Radios (DMR), including messaging, instant group calling, GPS location tracking, and emergency notifications. Combining this functionality with LTE cellular networks provides the bandwidth required for modern data, photo, and video applications, along with nationwide LTE coverage.
PoC devices connect to the cellular infrastructure of Mobile Network Operators like Rogers, using a SIM card like those installed in cell phones. The result is a highly reliable network that requires no maintenance or operational expenses. An app on the PoC radio provides simple and convenient access to PoC services.
PoC network services are hosted in the cloud. The cloud services are located on privately hosted servers owned and operated by the PoC platform. Gateway routers provide connectivity between the LTE network and the PoC server. Dispatch Applications (used for group calling and GPS location tracking) and the Management Application (used to configure customer accounts) are connected to the PoC cloud server through the internet.
Hytera also offers its own network to work alongside its PoC devices called Hytera Halo.
Hytera HALO is the most advanced National Push-to-Talk Over Cellular (PoC) radio network.
Combining both PoC devices and Hytera Halo provides the most effective radio connectivity and performance results.
Nationwide radio coverage over cellular LTE mobile networks
Supports both Wi-Fi and LTE calling, and seamlessly switches between networks
Compact and rugged devices with industry-leading voice quality and digital noise suppression
Instant group Voice and Video calling with unlimited channels
Fast and low-cost deployments that require no infrastructure or frequency licenses
Powerful Fleet Dispatching and GPS location tracking
Hytera Canada PoC Solutions
Hytera offers a variety of essential PoC devices that are built for professional business communications. These compact, rugged, and easy-to-operate handheld devices enable instant group voice and video communications over Wi-Fi and nationwide LTE cellular networks and can automatically switch over to the LTE network when out of Wi-Fi range.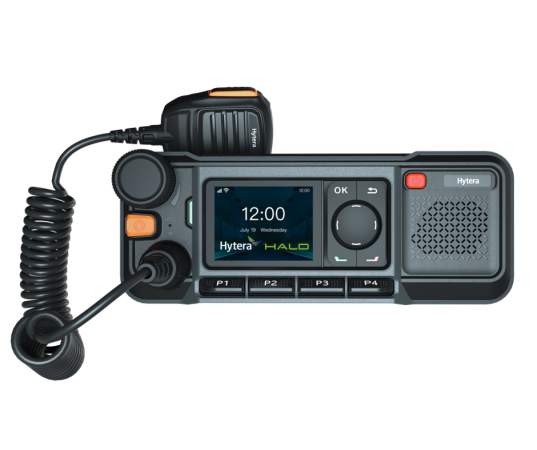 The MNC360 mobile radios are professional-grade communications devices that provide clear push-to-talk communication, instant group calling, and location tracking for reliable and efficient fleet dispatching.
An ultra-compact, rugged, and easy-to-operate push-to-talk radio that enables connectivity over 4G/LTE and Wi-Fi for wide-area radio communications. It is cost-effective, and surprisingly feature rich for the price.
The PNC380S PoC device is a compact, rugged, and easy-to-operate handheld device that utilizes Wi-Fi and existing nationwide 3G/4G/LTE cellular networks for unlimited coverage and capacity.
Integrates a body camera with a Push-to-Talk over Cellular voice communications to capture, store, and share video, audio and images in the field.
The PNC550 supports group video conferencing and runs the Hytera HALO Dispatch Android app.
Any business or organization that needs reliable and cost-effective group communications can deploy PoC radios quickly and easily without the infrastructure required for traditional radio systems. For more details on available Hytera devices & systems or Push-to-Talk Over Cellular contact us today!
---
Print this page