Leaders of the healthcare security industry shared their experiences of the past year at the Focus On Healthcare Security virtual event, held on Dec. 2.
Sponsors for this year's event included ASSA ABLOY, GardaWorld, Axis Communications, Johnson Controls, Metallic, and Convergint as well as industry partner the International Association for Healthcare Security & Safety (IAHSS).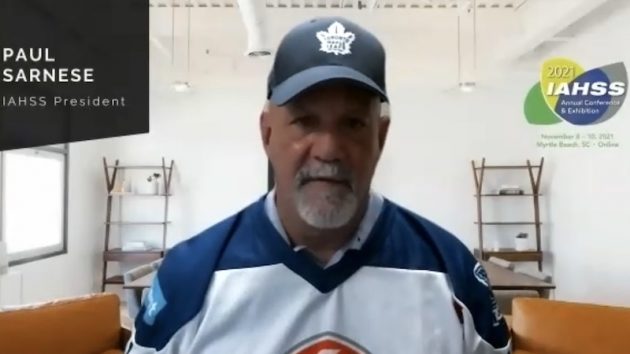 Paul Sarnese, president of IAHSS, kicked off the afternoon with an introduction where he commended security professionals at healthcare facilities for demonstrating resiliency and doing more with less while steering through uncharted waters.
Pandemic Pressures
Chief Protective Services Officer at Alberta Health Services Jerry Scott then gave a keynote presentation.
Retention of contracted security, social disorder and anxiety, and online intimidation and harassment of staff are just a few of the challenges AHS has had to navigate.
"We have had protests across Canada at our facilities as the vaccine mandates came out and that really shook a lot of psychological safety concerns for people within healthcare and our leadership," said Scott.
Scott said COVID incidents ebbed and flowed depending on the intensity of lockdown measures. He said local law enforcement also saw a direct correlation in increased levels of violence with the "heaviness" of lockdowns.
"Violence prevention is key, it's a good investment, it saves money, it keeps people safe, but you need to have a response when those prevention strategies don't work," said Scott.
He added that his team coordinated efforts to ensure security staff had enough time away from work to prevent burnout.
Scott's team of security personnel responded to 500,000 calls for service in the past year.  According to data presented by Scott, 55 per cent of these calls were for addiction and mental health concerns.
IAHSS Ontario Chapter Awards
Fayez Bilal, vice-chair for the Ontario chapter of IAHSS, presented this year's Security and Safety Leadership Award to Martin Green, a past-president of IAHSS who has over 36 years of experience in healthcare security and has served as a mentor to the Ontario IAHSS chapter.
IAHSS president-elect and host of the Healthcare Security Cast Brine Hamilton presented the Healthcare Security Cast Canadian Security Officer of The Year Award to two recipients this year: Josh Crewe and Dave Peterson, both of Paladin Security. Hamilton shared that Crewe had de-escalated a situation where a man in a mental health crisis had climbed to the top roof of the healthcare facility. Peterson was recognized for helping a family in need following a car accident.
Roundtable

For the final session of the afternoon, six security professionals discussed the common pressures the industry has faced in the last couple of years of the ongoing pandemic.
Major points of discussion included COVID-related protests and the escalation of violence in healthcare facilities.
As Hadji Sarr, system director, public safety, Houston Methodist, explained, 2020 was about securing the vaccine in terms of safe transportation and storage as well as preparing for potential attempts to sabotage its distribution.
This year, security teams have had to deal with the vaccine as a political issue following legislated mandates to ensure the public's immunization against coronavirus.
Sarr described how his team at Houston Methodist have had to deal with protests since March of 2020, a time when these types of protests numbered small groups of five or six. Now in 2021, they are dealing with the national anti-vaxx movement and continue to face threats both internally and externally.
Paul Sarnese, president, IAHSS, and assistant vice-president, Virtua Health in New Jersey, spoke of how emerging variants of the virus due to lower vaccination rates in other countries and flexible travel rules will contribute to the changing definition of a full vaccination.
"We consider two doses to be fully vaccinated. That could change in six months and we may say you need a third dose," said Sarnese. "We may have a different wave of protests and different wave of aggression and resentment from our colleagues or employees," said Sarnese.
Jeff Young, national director of healthcare at GardaWorld said hospital security must implement a threat management system and have contact with local law enforcement to gather intelligence about specific individuals and groups and know where they plan to hold COVID protests.
Canadian Security's next event will be the Security-Police-Fire Career Expo, held March 1, 2022, in Vaughan, Ont.
---
Print this page