Enterprise risk visualization software
By Canadian Security
Products
Data Security
enterprise risk visualization
enterprise security
erv
idv solutions
visual command center
IDV Solutions has announced availability of the latest release of its enterprise risk visualization (ERV) software, Visual Command Center 3.0.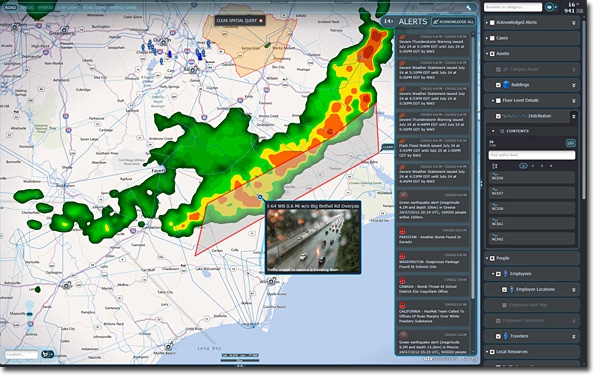 This release includes expanded data sources, enhancements to alerting, and other features that increase the ability of organizations to alert, assess, and take action against threats to their assets and operations.

Visual Command Center empowers organizations to protect their people, facilities and operations against real or potential threats. It monitors real-time risk events such as acts of terrorism, weather, hazardous materials, as well as data from other sources, such as Web feeds or internal and external systems including physical security devices. When a risk is detected near an asset or employee location, Visual Command Center automatically generates an alert. Operators can use powerful visualization, filtering, and query tools to rapidly assess the threat, and then act to mitigate risk.

The new release includes enhancements to inbound alerting; improvements to "tours" (cycling visualizations of global, regional, and metro views); expanded messaging, notification and reporting; and time-based enhancements. Visual Commander 3.0 also includes new connections to travel management solutions and expanded travel security and medical risk data.

"With this release, security teams and security operations centers have even more power for real-time situational awareness of their assets and risks to their organizations," said Ian Clemens, Chief Technology Officer, IDV Solutions. "Visual Command Center 3.0 brings refinements to operational workflows, additional capabilities for connecting to data sources, and behind-the-scenes enhancements."

Visual Command Center, with its exclusive Alert, Assess, Act threat management system, has been deployed by customers in financial services, technology, energy, defense, and others to protect people and assets.
---
Print this page