Emergency Management Survey Results – Part 1
By Staff
Features
Emergency Management Week
crisis communications
emergency management
emergency management week
emw
mass communications
social media
Canadian Security collected responses to the Emergency Management Survey, sponsored by Calian, over a period of two weeks in June.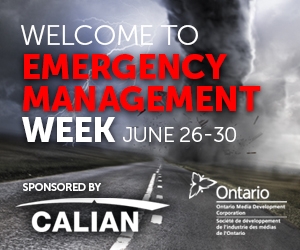 Participants identified themselves as:
Security director/senior security manager – 30%
Front line security staff or supervisor – 17%
Emergency manager – 8%
Crisis communicator/consultant – 3%
IT manager/IT security professional – 1%
The remainder reported their own titles, including: VP operations, risk management specialist, forensic examiner, building manager, facilities manager, occupational health and safety, retired firefighter, retired police officer
Participants were asked to respond to three multiple choice questions and were given the option to submit comments on each. Results and responses will be made available this week and will remain archived on the Emergency Management Week microsite.
Question 1: What technology or service is best suited to providing EM notifications today and is most likely to be viewed and understood by its intended audience?
Social media (Twitter, Facebook, etc.) – 22.79%
Email and/or text alerts – 47.06%
Digital signage – 4.41%
Public address system – 25.74%
Respondents' comments:
It's my belief that people aren't necessarily checking texts/push notifications immediately anymore. the public address system is always immediate. A combined approach is always best.
I usually save social media for moments when I have nothing else to do. Digital signage is excellent but not readily available. Public address is good for those who are not next to or have a smart phone available.
In reality, it is all of the above.
While just a few years ago I would have said public address system, I would now say social media as all generations are using it now.
Unfortunately most people today cannot function without their phone nearby. This has an upside in that Emergency Services may reach a large audience in a very short time. Social media tends to be immediately looked at, as opposed to text or email.
No single system of notification is sufficient. Depending upon availability and nature of emergency, all methods are applicable including word-of-mouth. It can also depend on target audience.
Parts 2 and 3 will be posted later this week.
---
Print this page