News Public Sector
Bonnie Butlin inducted into Homeland Security Hall of Fame
May 26, 2014
By Canadian Security
Bonnie "The Trailblazer" Butlin, Executive Director of the Canadian Security Partners' Forum, Managing Director of the Canadian Security Executive Forum, and Vice Chair of the Public Private Collaboration Committee with The Infrastructure Security Partnership (TISP) is set to be inducted into the International Women in Homeland Security and Emergency Management Hall of Fame on Saturday November 15, 2014 in San Antonio Texas during IAEM-USA 62nd Annual Conference & EMEX Exhibit.
May 26, 2014
By Canadian Security
Topics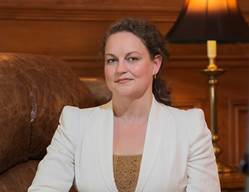 In 2013 Bonnie became the first Canadian Female Security Professional to be named to Security Magazine's highly prestigious "Most Influential People in Security" and this latest honour helps to further highlight the accomplishments that women have made and are continuing to make in the security & resilience domains. At the CSPF "Women in Security 2014" in Ottawa Canada on Wednesday May 21, 2014, Butlin was the MC, and her latest award was announced during the evening.